RURAL FIRIES FIRST TO BOAST UTV
The Greenbank Rural Fire Brigade is set to expand its capabilities, becoming the first in South East Queensland to add a Utility Terrain Vehicle (UTV) to its tool kit of fire fighting equipment.
The brigade has secured the new state-of-the-art vehicle, after receiving a $25,000 donation from Mirvac.
---
Greenbank Rural Fire Brigade 1st Officer Fabian Stangherlin said the UTV would compliment the brigade's existing fire ground support equipment, and would also be available for use by the Beaudesert Logan Group.
"In the past we have utilised this type of equipment from farmers in the area, so having our own UTV on site at our station will provide us with immediate access when needed," he said.
"We are the first rural fire brigade, along with Beaudesert Logan Group, in South East Queensland to benefit from this new equipment and believe it will be invaluable in expanding and enhancing our capabilities, including fire ground support, reconnaissance and mapping, and it's purpose will only expand over time.
"We work closely with our neighbouring brigades and other agencies, such as Queensland Fire and Emergency Service (QFES) and State Emergency Service (SES), which will also have access to this equipment, so it is beneficial not only for those living in Greenbank but across the South East Queensland region."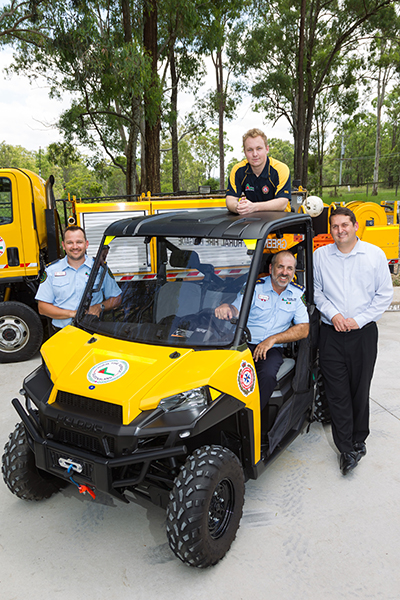 ---
The Greenbank Rural Fire Brigade, based on Teviot Road in Greenbank, was founded in 1982 and currently has 30 volunteers. Along with being the first in South East Queensland to acquire the UTV, Greenbank is the only brigade in Queensland to have large animal rescue capabilities.
Mirvac Queensland Residential General Manager Warwick Bible said Mirvac was delighted to make the donation after working alongside the Greenbank Rural Fire Brigade last year.
"Our team engaged with the rural fire service to help with a controlled back burn of our land holding in Greenbank ahead of the summer season," he said.
"This was a really positive experience and we look forward to continuing our relationship with Fabian and his team in years to come.
"This service exists because of the tireless work of its volunteers, so when we heard the UTV would support and strengthen their capabilities, we wanted to help."
Mirvac is planning a new 481 hectare community in Greenbank, anticipated to feature approximately 3,300 homesites when complete.
For further information please contact: Tanya Waite at Promedia on +61 7 5593 2011