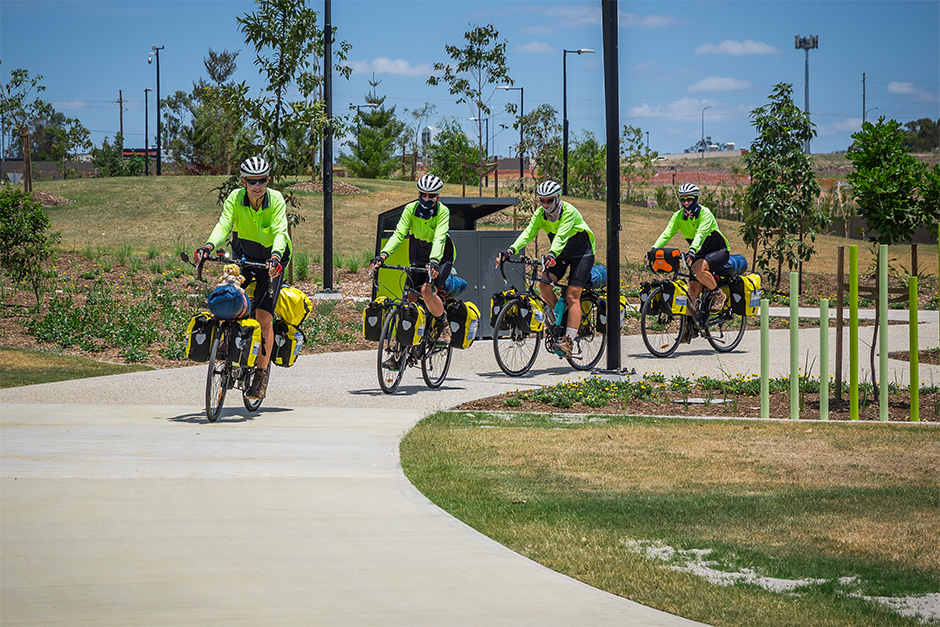 Everleigh received some special visitors this week, with the Wolters family riding into our new events space for a day of fundraising.
The family, from Bundaberg, stopped in on Sunday January 20, as part of their 18,000km kilometre cycling challenge to raise funds and awareness in support of the Motor Neurone Disease Association of Queensland (MND).
The Wolters have spent the past year on their bikes, and made the special stop to meet and mingle with the local residents of Greenbank and to boost awareness of the important cause.
Everleigh and Enriching Communities Greenbank joined Logan City Council in hosting the event, which included children's entertainment ... and a coffee cart for the adults!
Visitors were asked to donate a gold coin, while the local Greenbank business community put on a BBQ and a ticketed raffle to further boost fundraising efforts.
More than $3,600 was raised, pushing the Wolters past their $50,000 target, ahead of the final legs of their journey, which will finish in their hometown of Bundaberg.
The Wolters family includes parents Diana and Jozef and children Jack, 13 and Cloe, 14, who are documenting their efforts via their 'One Year on our Bike' Everyday Hero page.
The Wolters were inspired to raise funds for MND after Jozef's father passed away from the disease in 2017.
Kylie Doessel, family friend and fundraiser organiser, says the event was a great way to raise funds for an important cause and to celebrate the efforts of the Wolters family.
"It's incredible to see one family literally 'go the distance' for such an important cause," she says.
Ms Doessel says she initially reached out to local Logan City Councillor Trevina Schwarz, who was enthusiastic about the fundraiser and suggested the event be held at Everleigh.
"It's fantastic to have both Council and Everleigh developer Mirvac on board with the event and we hope the Wolters family have inspired others to see that anything is possible if you have a goal in mind," she says.
Mirvac Queensland Residential General Manager, Warwick Bible, says the Everleigh team was honoured to host the Wolters family and Greenbank locals in the new community parklands.
"It was the first opportunity for locals to enjoy an event at Everleigh's new parklands, which features 1.5 hectares of recreation space and an 8,000sqm linear park with pedestrian and cycling pathways," he says.
"And while we've delivered a great space for the locals to enjoy and use, we know that it's the people that make a community come together. At Mirvac, we're strong believers in being part of that by showing our support."
For more information on the Wolters, or to donate, please visit their everydayhero page.