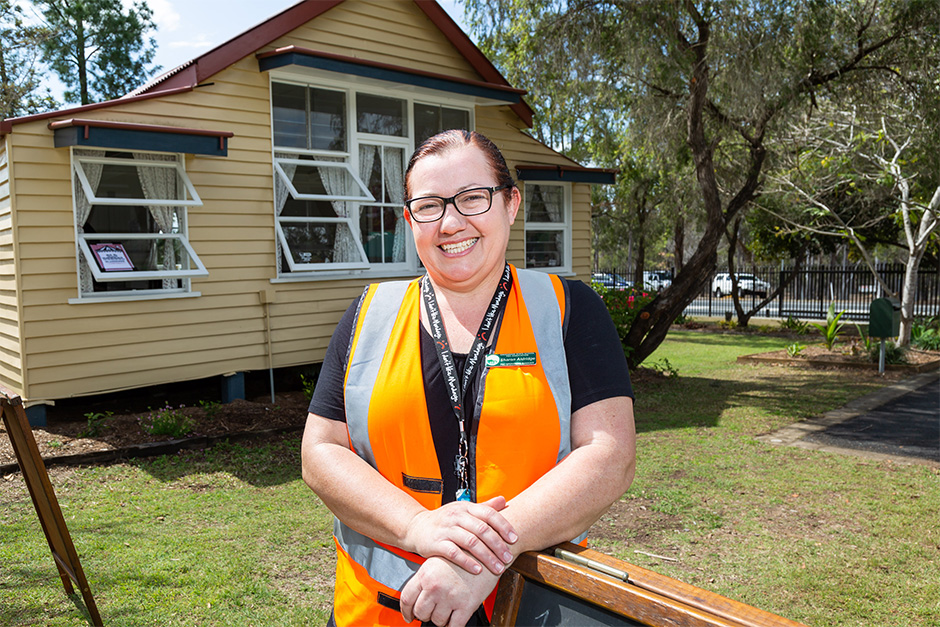 OUR SECOND ANNUAL COMMUNITY HERO
From advocating for a school hall and brand-new tuckshop to improving an after-school care facility, former Greenbank State School P&C President Sharon Aldridge has had a big impact on the Greenbank community - and now she's been recognised as a 'hero' for her tireless efforts.
Sharon took home the Greenbank Community Hero Award, which was announced at the Greenbank Christmas Extravaganza in December 2018, after the community rallied behind her nomination.
Members of the public were invited to vote via www.communityheroawards.com.au – which allowed them to be involved in the judging process for the first time.
The award, now in its second year, recognises those who dedicate their time to helping the local community.
Greg Macdougall, who is the current P&C President of Greenbank State School and one of many locals who nominated Sharon for the award, says she is an asset to the Greenbank community.
"From giving up her free time to volunteer as President for both the Greenbank State School's P&C Association and Greenbank C&K Kindergarten, to bringing a number of significant projects that have greatly benefited the whole school community to fruition – she is very much loved," he says.
"Sharon has played a leading role in establishing the Gumnut House after-school care facility, the construction of the Greenbank State School hall, renovations of the school's tuckshop – along with being the organiser behind school fundraising initiatives.
"Events like the Greenbank School Carnival simply would not be possible without Sharon being the motivator to make it happen."
Greenbank Community Hero Award founder and Enriching Communities Greenbank Director, Suzanne Guastini, says she was thrilled with the result and couldn't be happier for Sharon.
"It's a pleasure to see Sharon acknowledged for her ongoing work in the community, which dates back well over 15 years," she says.
"Sharon is a tireless community volunteer and has donated countless hours of her time to helping others - year after year – yet has never sought recognition or reward for her efforts.
"To see her surprise and delight at being named the Greenbank Community Hero is what these awards are all about.
"Along with the award, we've rewarded Sharon with a $500 Mantra gift voucher – so she'll be able to kick back and relax after her years of hard work."
Ms Guastini says this year's award was a close-call, with all the nominees strong advocates in the community.
"Though they are all from different backgrounds, this year's nominees have all positively impacted the Greenbank community in one way or another, and the event is not just about celebrating the winner but acknowledging the efforts of our many community role models," she says.
"They work tirelessly to support, nurture and promote their community, fostering the sense of good-will and pride that makes this such a special area to be."
Mirvac Queensland Residential General Manager, Warwick Bible, says the company, through its new masterplanned community, Everleigh, was proud to support the awards for the second year and commended Sharon on her hard work.
"We congratulate Sharon on her longstanding commitment to the Greenbank community. She is truly deserving of this award," he says.
"The Greenbank Community Hero Award serves as a great way to acknowledge the wonderful work of outstanding members of the community who, through their efforts, have improved and enriched the lives of others."
The runners-up for this year's Community Hero Award include young scout leader Stephanie Field, Greenbank Busy Bees Playgroup Director Jade Cooper, veterinarian Glenn Geissler and the Jimboomba Rural Fire Brigade.