CARLENE DUFFY - CEDAR AND SUEDE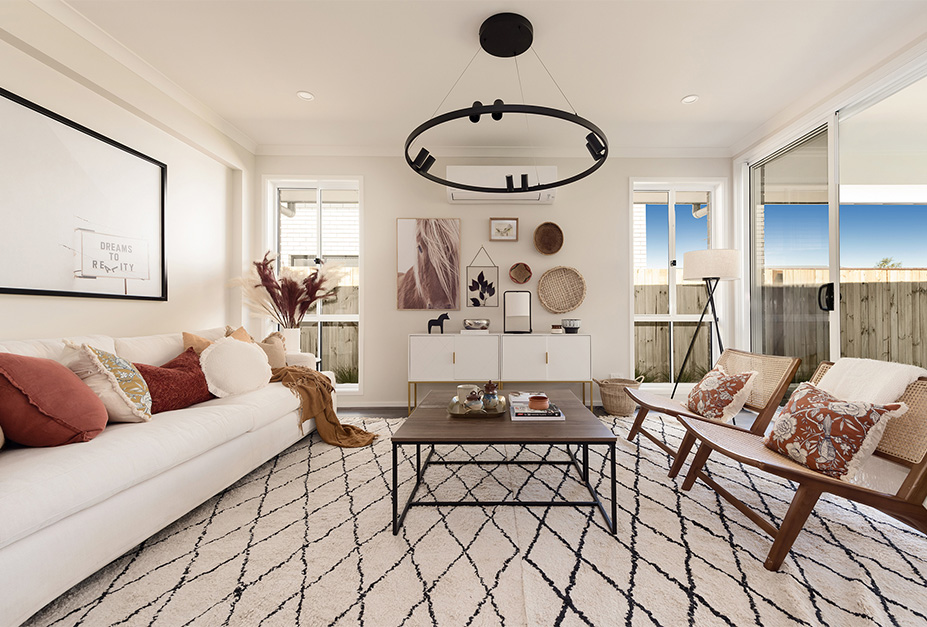 A home to me is an ever-evolving expression of its occupants which means it's OK that it may never feel 100% DONE. This thought can be comfort when styling a home, a process that is often daunting in time, cost and the multitude of decisions that need to be made in creating a considered home. The Plantation Homes Ready Built Home at Mirvac's Everleigh community in Greenbank demonstrates how you can style on a budget and still create an interesting and thoughtful space that feels like home.
Shop slowly and widely
Take your time sourcing key pieces of furniture such as your dining table and sofas. These are big purchases that will play a big role in the final outcome and will help inform the rest of your purchases. Shop around. It's the best way to educate yourself and it will certainly instil you with purchase confidence. Shopping slowly and widely will allow you to view items in different contexts to expand your mind and allow you to shop and style more intuitively.
Double up
If you've ever been shopping for rugs, you'll know that large rugs can be expensive. It's often more cost effective to place multiple rugs together to create one large one like I've done in the display with these 2 x Moroccan-inspired Kmart rugs. A large rug or the illusion of a large rug is key in making a space feel more luxurious, homely and sophisticated. Ideally, you want as much furniture as possible to reside on your rug, contrary to using a small island rug, on which only your coffee table sits. Feel free to place multiple pieces of furniture together to create larger surfaces areas. I've applied this trick in the home, utilising multiple inexpensive Kmart coffee tables and console tables to fill out the space.
Shop vintage
Every home, regardless of the style, should represent some vintage pieces. This is your opportunity to inject some soul in your space and typically, a beautifully aged piece, rich in history, provides the ultimate contrast to the newness of the other items. Be open to the idea of inheriting family heirlooms or just pieces that friends and family are discarding. Otherwise, op shops and flea markets also provide some really interesting finds at VERY affordable prices. It could be anything from a vintage armchair to some vintage art, or some fabulous mid-century pottery. In the Plantation display, I've utilised unique vintage pottery and reframed vintage art into more contemporary frames to create an interest by juxtaposing old and new.
Think outside the frame
If you've ever sought picture framing quotes, you'll know that framing isn't cheap. In particular, framing large pieces of art can be a deal breaker due to the type of glass required in large pieces. Fill out walls with multiple pieces of art carefully curated to create a gallery wall, and think outside the box. I've been known to create a gallery wall utilising items such as, African baskets, framed fabric, and mirrors mixed amongst art to create an eclectic, lived in look and feel. I've created grandeur by sourcing very affordable oversized canvases from Ikea that come with a DIY frame. Professionally framed artworks of this size would have been cost prohibitive.
Don't scrimp on your bedding
We typically spend 7-9 out of 24 hours in bed so this is an area where you want to spend. When you invest in high quality, natural materials such as linens and cotton that will elevate your bedroom to the type of space a bedroom should demonstrate: comfort, luxury and a feeling of cosiness. Buy slowly and shop around at manchester outlet stores or keep an eye out for the sales at your favourite bedding supplier to secure what you want at a price you can afford. In the display, I forwent bedheads and instead made a statement with my bedding by making most of the Adairs sale to secure some beautiful vintage washed linen in rich colours, which is the undisputed hero of each of the bedrooms.