GREENBANK COUPLE REVAMP ICONIC HOME
Ross and Suzanne Gibbon have quite literally 'moved house' to give new life to one of Greenbank's oldest homes.
The experienced renovators, who have lived in the area for more than two decades, last week (18 April) relocated the home from its original site, which will become home to property group Mirvac's new community at Greenbank.
---
Ross said he and Suzanne, who had a passion for revamping vintage Queenslanders, had watched the home for many years and, when they heard about Mirvac's plans for the site, approached the company about the opportunity to relocate and restore it.
The couple arranged for the home to be moved to an acreage property in Greenbank - an operation that required years of planning.
The home was cut in half and the roof removed, before house removal specialists Mackay and Sons loaded it onto two large trucks for the journey, and put it back together on the other end.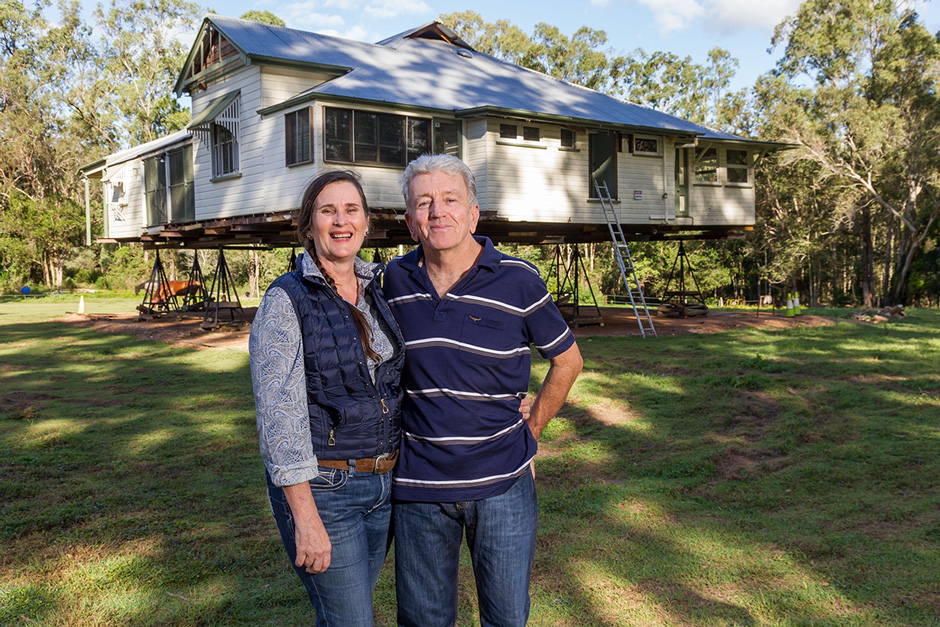 ---
"Suzanne and I began discussions about moving the home with Mirvac nearly two years ago, so a lot of planning and preparation went into the relocation," Ross said.
"We had to jump through quite a few hoops in order to receive approval from Logan City Council, who were excellent through this whole process, as well as a lot of liaison with the engineers.
"We have never been down this path before, so it has been an interesting and exciting experience, which has been made all the more easy with the support of Mirvac, who were quite passionate about seeing the home preserved."
Mr Gibbon said the home had an interesting past, which they planned to embrace as part of the renovation. "I believe it was originally an old grazier's home, where over time, five generations of the same family lived," he said.
Mr Gibbon said the couple had renovated a number of Queenslanders in the past and were focused on highlighting the various unique features of the iconic style of home.
"The house was very low set, so we are going to turn it back into a high-set home using three metre house stumps to increase airflow and re-build the verandas to create a more conventional Queenslander," he said.
"We both know there is a lot of hard work involved in restoring a house - especially a Queenslander of this vintage - but we are willing to put in the effort to transform it into the gorgeous house it once was.
"I can't wait to move in and make it our home. I'm glad we have been given the opportunity to restore it back to beautiful condition."
Mirvac Queensland Residential General Manager, Warwick Bible, said he was thrilled the house would continue to be a home for a new generation of residents.
"The home has taken pride of place on this land for many years and this is an exciting new chapter in its history," he said. "We know Ross and Suzanne will restore it to its former glory and look forward to seeing the completed renovation."
Mirvac is planning to launch its new community, which will feature approximately 3,300 homesites across 481 hectares, at Greenbank in the coming months.