Buying at Everleigh
So you have decided that Everleigh is going to be the place you call home but not sure how or what to do to start building the home of your dreams?
That is alright, all your questions are answered on this page.

What You Can Buy
Choose from land, home and land packages and completed homes with a range of designs and budgets to suit your family's lifestyle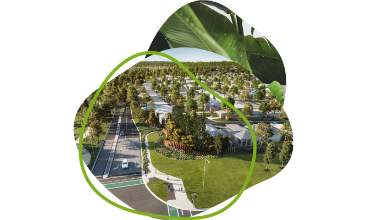 Land
Select your ideal block of land and start
planning your dream home from the ground up.
Everleigh offers a range of land lots to suit
every budget.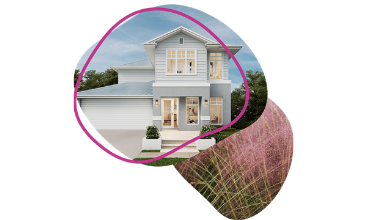 Build New
Everleigh's house and land packages are a great
place to start planning the design of your dream
home. Be inspired by our range of packages
from some of Queensland's best builders.

Frequently Asked Questions
ARE THERE ANY GUIDELINES FOR WHAT I CAN/ CAN'T BUILD?
Yes. A large point of difference for Everleigh is the focus on quality homes. The Everleigh Residential Design Standards & Guidelines
have been prepared to assist purchasers (and their builders/ designers) to construct well designed, quality homes.
The standards and guidelines are intended to help you add value to your home and protect your investment by
creating an attractive streetscape.
CAN I CHOOSE MY BUILDER?
Yes. Partner with one of our 12 Everleigh Display Village Builders to design your dream home, in accordance with the
Everleigh Residential Design Standards & Guidelines.
WHAT DOES MY BUILDER NEED TO KNOW?
The Building at Everleigh Portal is a platform for you and your builder to find all the relevant information
required to build on your block of land. We encourage you and your builder to familiarise yourselves with this resource.
WHAT IS A COVENANT BOND AND WHEN DO I PAY IT?
The purpose of a covenant bond is to ensure the homes built at Everleigh are delivered in accordance with the
plans submitted and approved by Mirvac. At Everleigh, this is a one-off payment of $1,000, payable when you
submit your house and landscaping plans for approval. When your have finished building your home and your landscaping is
complete, you will book in a covenant inspection. When the inspection is passed, your $1,000 bond will be refunded to you.
WHEN CAN I START BUILDING MY HOUSE?
You can start building your home once you have: 1) Settled on your land, 2) Have covenant approval from Mirvac on your
house and landscaping plans and 3) Your $1,000 covenant bond has been paid
HOW LONG DO I HAVE TO START BUILDING AFTER SETTLEMENT?
You have 12 months from the date of settlement to commence building your home. Once you have
started construction, you have a further 12 months to finish building and landscaping.
HOW DO I SPLIT THE COST OF FENCES WITH MY ADJOINING NEIGHBOURS?
You will need to coordinate with your adjoining neighbours to arrange the side a rear fencing to your block.
Due to privacy reasons, we can't give out your neighbours details directly. We can however send an email
on your behalf to the surrounding owners requesting they get in touch to coordinate fencing arrangements.
Please contact the Everleigh Settlements Team with your best contact details and the lots you wish to get in touch with.
IS THERE BODY CORPORATE?
No. All land lots at Everleigh are freehold, bringing the cost of living down for you and your family.
ARE THERE SHOPS NEARBY?
There are a number of shopping options within close proximity to Everleigh.
ARE THERE SCHOOLS NEARBY?
At Everleigh your family can take advantage of a range of childcare, early learning and public & private schools.
The site of a new State Primary School is currently under construction and will be handed over to
Government later this year with the school opening in 2022.
WHY WAS THE SCHOOL CREATED?
A new state primary school was central to the Everleigh Masterplan. The vision was to create a community where
every young resident could be within walking distance to a state-of-the-art primary school and we're thrilled
construction has now started. Set within the State Government's Greater Flagstone Priority Development Area (PDA).
the new primary school will cater to the fast-growing population within Everleigh and the wider Greenbank community.
We expect to have around 750 residents living in Everleigh by the start of the 2022 school year
and 3,000 by early 2026, so the school is important new infrastructure to support that growth.

HOW BIG WILL THE SCHOOL BE?
The first stage of the new state primary school will cater to around 700 students from Prep to Year 6,
with plans for the school to accommodate 1400 students in future, helping to support further growth in the local area.
WHAT AMENITIES WILL THE SCHOOL HAVE?
The amenities will include an administration block, resource centre, multi-purpose hall, Prep learning area,
junior learning areas, student and staff amenities, canteen, covered areas, oval, playgrounds and more.
WHO WILL BE CONSTRUCTING THE SCHOOL?
The new state primary school is being built by the respected FKG Group. The company has been
operating for over 40 years and is known for delivering a variety of building and engineering projects
Construction on the school is expected to create over 200 new jobs in the local community.
---
Building at Everleigh
The Everleigh Settlement & Building Guide is designed to provide you with an overview of your journey from signing your contract,
building your new home and moving to Everleigh. Within this guide, you will find a summary of the steps involved in reaching settlement,
together with important information on building your new home. Finally, some key ideas to ensure the vision of Everleigh
is realised once everyone has settled in.

Please also find the link below to the Building at Everleigh Portal.
A platform for you and your builder to find all the relevant information required to build on your block of land.
We encourage you and your builder to familiarise yourself with this resource.

---
First Home Buyers
First Home Owners Grant
Take advantage of the Queensland Government's First Home Owners' Grant at Everleigh.
Not only will eligible first home buyers receive the grant, they will also receive existing stamp duty concessions
so now has never been a better time to build your dream home.

First Home Loan Deposit Scheme
The Federal Government's First Home Loan Deposit Scheme (FHLDS) came into effect on January 1 2020,
giving first-time buyers the chance to own a home sooner. By acting as 'guarantor' for up to 10,000 eligible home loans
per year, the FHLDS enables first home buyers to purchase property with as little as 5% deposit.
There are property price thresholds in place, just search by suburb to see where they sit near you.
For Greenbank, the threshold is $475,000, with many choices available in the Everleigh community under this mark -
from homesites to house and land packages and new ready-built homes.


---