OUR EVENT SPACE GETS ACTIVE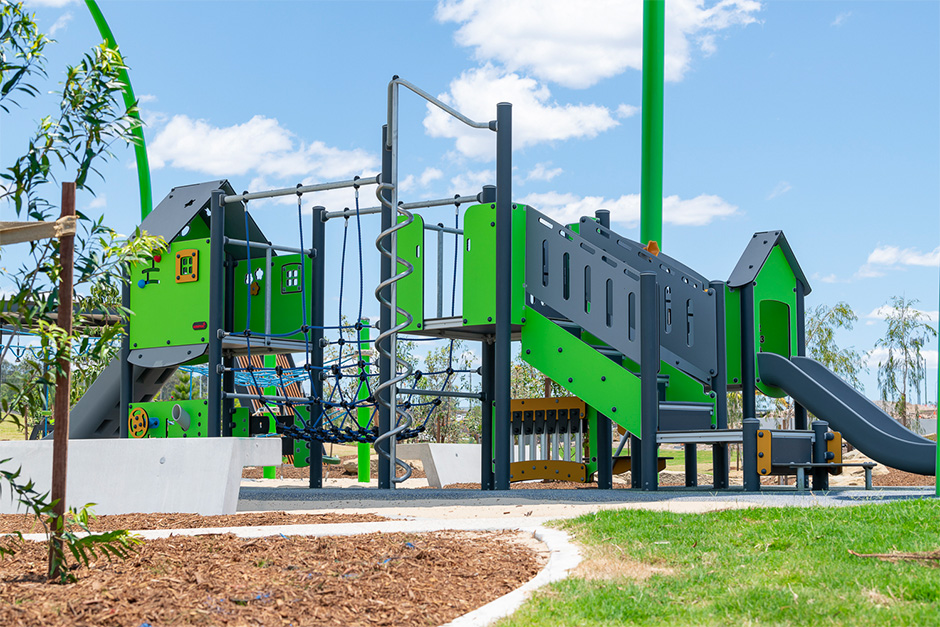 Everleigh's Event Space Gets Active
We've kicked off the new year with a new event space for Greenbank - which is fast becoming the perfect place for future Everleigh residents and people of Greenbank and its surrounds to meet, play and get active.
The new $5.1 million parkland includes the 3600sqm community event space, a junior playground with a custom-built obstacle course, picnic-perfect shelters and walk and cycle pathways, which are conveniently connected to Greenbank Shopping Centre.
Everleigh Community Engagement Manager Suzanne Guastini, of Enriching Communities Greenbank, tells us the event space will be abuzz - right from day dot - with a series of free community activities planned.
"Everyone's invited to enjoy a day of all things Australian on January 27, including live music, Aussie tucker, thong throwing and a special 'Australiana trail' for the littlest Greenbank residents," says Suzanne.
"The trail activity is designed to get kids excited about exploring the outdoors, as well as providing an educational opportunity to learn more about all things Aussie.
"Kids will be encouraged to find clues throughout the parkland, with one lucky adventurer taking home a prize.
"There is also a full 'Wellness in the Park' program of ongoing activities being rolled out in the new parkland and events space, catering for everyone from primary-aged children to adults.
"We're hoping to strike the right balance between intense physical activities and more relaxed, mindful practices here at Everleigh," explains Suzanne.
"We're bowling into our first activities in January, with two Friday night cricket 'come try' sessions for kids, giving them the opportunity to give the sport a go, have a lot of fun and see if they just might have the makings of Australia's next Sir Donald Bradman.
"We'll be giving away a Master Blasters Membership to Greenbank Cricket Club during each session, so two lucky participants will be able to see out the season for free.
"On Tuesday evenings, from January 22, we'll be getting our zen on, with Gentle Mindfulness Yoga run by local Larissa Halls from Everyday Inspirations.
"And we are lucky enough to have Darren and his Dazza Fitness bootcamp moving to the new Everleigh event space from the first Saturday in February.
"Both Darren and Larissa have generously donated their time so these events are free and open to the whole community to enjoy, each and every week.
"The program continues throughout February with primary school-aged kids invited to come down and learn Taekwondo from our martial arts master, Craig, each Thursday."
All of the activities are free to Greenbank locals, and Suzanne expects the hosted activities to become popular throughout the community.
"A lot of people have been curious about the parklands over recent months, asking when it will open and what we have planned," says Suzanne.
"In addition to these activities, we invite the community to come down and use the spaces informally as well - whether you want to bring down a picnic rug and chill, kick the footy around or help the kids have fun on their scooters.
"We hope to see this become a real hub for the entire community over the months and years to come."
UPCOMING EVENTS AT EVERLEIGH'S NEW PARKLAND
Aussie Summer Beats

- January 27 from 3pm to 5.30pm: live music, Aussie tucker, free waterslide fun, thong throwing, a Lamington Competition and a Didgeridoo Kids Show.

Cricket

'come try' sessions with Greenbank Cricket Club - Friday January 18 and January 25 from 6pm to 7pm, with free coffee available while you watch.

Gentle, Mindfulness Yoga

with Larissa Halls of Everyday Inspirations - every Tuesday from January 22, from 6.30pm to 7.30pm. The first five people to the first session will receive a beautiful free Fritz&Lola yoga mat to help get them started.

Dazza Fitness bootcamp

- every Saturday, commencing February 2, from 6.30am

Taekwondo

for primary schoolers with instructor Craig of Reeves Taekwondo - every Thursday from February 7, commencing at 3.30pm each week
All events will be held in Everleigh's new event space and parkland at Everleigh Drive in Everleigh, off Teviot Road, Greenbank.